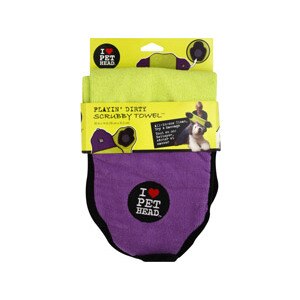 I Love Pet Head Playin' Dirty Scrubby Towel
30 inches x 14 inches. All-in-one clean, dry & massage. Massaging bristles! 1. Massaging bristle pad. 2. Absorbent microfiber. 3. Hand pockets. 4. Hanging loop. Our extra long towel helps you scrubba scrubba faster with mitts on both ends. Soft bristles and microfiber towel will help any dog look puppylicious. Made in China.
Polyester (80%), Polyamide (20%). Bristles: TPR.
Machine wash cold. Hand to dry.