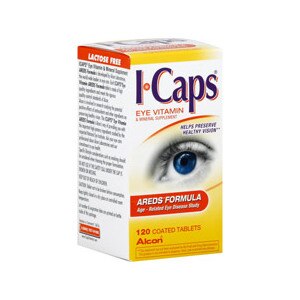 Icaps Areds Formula Tablets
Dietary Supplement. Helps Preserve Vision. (This statement has not been evaluated by the Food and Drug Administration. This product is not intended to diagnose, treat, cure or prevent any disease.) ICaps Dietary Supplement AREDS Formula contains the same antioxidants and Zinc ingredients used in the Age-Related Eye Disease Study (AREDS) is a ground-breaking, 10-year clinical study that proved the benefit of these high-potency antioxidant and Zinc ingredients in certain patients at high-risk. It is important to note that the high-potency Vitamin C, Vitamin E and Zinc ingredient levels found in ICaps AREDS Formula generally can be attained only by supplementation and not through diet alone. Delayed Release Tablets: ICaps Dietary Supplements are the only major ocular vitamins with delayed release tablets. These unique delayed release tablets dissolve gradually, thereby contributing to greater absorption by the body, and less stomach upset (which is common when taking high-potency vitamins and minerals, such as Zinc). Easy-to-Swallow Tablets: Alcon Laboratories worked hard to formulate the high-level ingredients found in ICaps AREDS Formula into smaller, easy-to-swallow tablets. Lactose free. ICaps Dietary Supplement AREDS Formula is developed by Alcon Laboratories, the world-wide leader in eye care. Each ICaps AREDS Formula Tablet is made of high quality ingredients and meets the rigorous quality-control standards of Alcon. Alcon is involved in research studying the potential positive effects of antioxidants and other ingredients on preserving healthy vision. This ICaps AREDS Formula is Alcon's way of providing you with the important high-potency ingredients studied by the respected National Eye Institute. Ask your eye care professional about Alcon Laboratories and our commitment to eye health.
Other Ingredients: Microcrystalline Cellulose, Gelatin, Hypromellose, Silicon Dioxide, Magnesium Stearate, Stearic Acid, Polyethylene Glycol, Sucrose, Dextrin, Titanium Dioxide, Corn Starch, FD&C Red No. 40 Lake, Dextrose Monohydrate, Lecithin, Ascorbyl Palmitate, FD&C Yellow No. 6 Lake, Dl-Alpha Tocopherol, Sodium Ascorbate, Sorbic Acid, Sodium Benzoate, Polysorbate 80.
Suggested Adult Intake: Two tablets, twice a day with meal, or as directed by your physician. Keep tightly closed in a dry place at controlled room temperature.
Do not use if the safety seal under cap is broken or missing. Keep out of reach of children. Tablet not to be broken before consumption. Smokers: Please consult your eye care professional about the risks associated with smoking and using high levels of Beta Carotene.