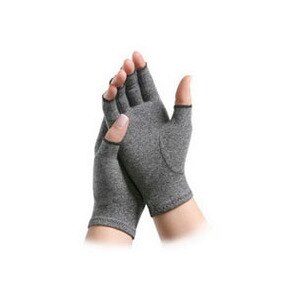 Imak Arthritis Gloves Medium Gray
Arthritis; hand swelling; cold hands. Relieve your pain, renew your life. Designed by orthopedic surgeon. Pain relief innovation. Ease-of-Use Arthritis Foundation. 2 gloves inside. Imak comfort guaranteed. Ideal for activities of daily living. Knotting. Gardening. Crafts & hobbies. Office use. May also help with neuropathy and poor circulation. Key Benefits: Provides mild compression to enhance blood circulation. Open fingertips allow freedom to touch, feel and grip. Cotton material allows skin to breathe. Comfortable to use all day and night. For warranty registration visit: www.imakproducts.com/warranty. Unisex size chart. Find the perfect fit for the most comfortable arthritis glove you can buy. Measure width at knuckles. Large: Up to 4 inch. Medium: Up to 3-1/2 inch. Small: Up to 3-1/8 inch. CE listed. Designed in the USA. Made in China.
Material Content: (92% Cotton, 8% Spandex).
Easy Care: Hand wash cold, air dry.