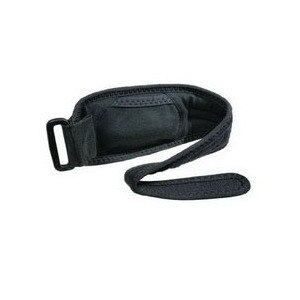 Adjustable. Fits right or left. Designed by orthopedic surgeon. Designed for maximum pressure. Relieve your pain, renew your life. Massaging ergoBeads. Pain relief innovation. Helps relieve: tennis and golfer's elbow; carpal tunnel syndrome; forearm pain; tendonitis. Ideal support for: tennis, golf, volleyball, computer work and other repetitive activities. Breathable foam with cotton lining for exceptional comfort. Hook and loop closure to ensure a perfect fit. ErgoBeads Pressure Pad for targeted compression to the tendons of the forearm for maximum pain relief. Latex free. ErgoBeads are exceptionally smooth plastic beads that glide comfortably against your skin. This creates a massaging effect to help increase blood circulation, promoting healthy muscle tissue. ErgoBeads beads feel better! CE listed. Designed in the USA by an orthopedic surgeon. Made in China.
Material Content: Polyester Flannel (92% Cotton, 8% Lycra).
To Wear: Slip hook and loop through buckle, slide onto forearm. Move Pressure Pad to desired location. Fasten. Easy Care: Remove Pressure Pad, secure hook and loop strap. Machine wash, air dry.