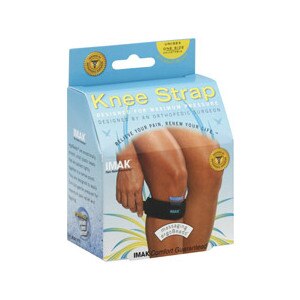 Imak Knee Strap Designed for Maximum Pressure
Designed by an orthopedic surgeon. Relieve your pain, renew your life. Pain relief innovation. Massaging ergoBeads. Imak comfort guaranteed. ergoBeads are exceptionally smooth, small plastic beads that are packed tightly together in a narrow pouch. They are designed to apply firm but gentle pressure for maximum pain relief and healing. Beads feel better! Designed for maximum pressure. Helps relieve: runner's and jumper's knee; tendonitis; chondromalacia; iliotibial band syndrome; Osgood-Schlatter's disease. Patented design allows the ergoBeads pressure pad to conform to your kneecap for maximum support and relief. Lined with soft cotton Lycra to ensure cool, dry comfort. Dual locking system offers flexible tension and custom fit. ergoBeads pressure pad provides focused pressure for kneecap alignment and tracking. Latex free. CE listed. Designed in the USA by an orthopedic surgeon. Made in China.
Material Content: Polyester Flannel, Cotton (92%), Lycra (8%).
Instructions to Wear: 1. Center the ergoBeads pressure pad under the knee cap. 2. Wrap knee strap around leg and attach inner elastic band to knee strap. 3. Affix outer elastic band to adjust to desired pressure. Easy care. Secure hook and loop straps. Hand wash cold, air dry.