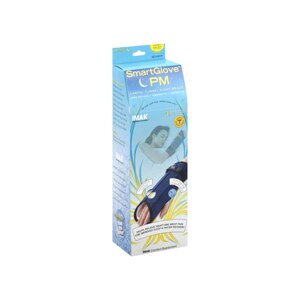 Imak Smart Glove Pm Night Brace One Size
Adjustable. Fits right or left. Hand fatigue. Tendonitis. Arthritis. Relieves your pain, renew your life. Pain relief innovation. No. 1 doctor recommended carpal tunnel treatment. Designed by orthopedic surgeon. Supportive splint. Massaging ergoBeads. Helps relieve night time wrist pain for improved sleep & faster recovery. Imak comfort guaranteed. Ergo Beads are exceptionally smooth plastic beads that glide comfortably against your skin. This creates a massaging effect to help increase blood circulation, promoting healthy muscle tissue. Nighttime Pain Relief: Rest and night splinting remain the No. 1 doctor-recommended conservative treatments of Carpal Tunnel Syndrome. The patented SmartGlove PM was rated as the Best Nighttime Splint for Carpal Tunnel Syndrome. Hook and loop strap with D-ring closure for perfect fit. Two rigid dorsal splints immobilize the hand, wrist and fingers in a neutral position. Soft cotton lining allows skin to breathe. Breathable foam covered with soft poly flannel promotes warmth and good circulation. ErgoBeads cushion massages palm. Extends to fingertips to keep finger from moving while sleeping. Palm rests on a tiny pillow for added comfort. For warranty registration visit: www.imakproducts.com/warranty. Helps Relieve: Carpal Tunnel Syndrome; arthritis; forearm tendonitis; sprains/strains. For daytime relief try the original SmartGlove. CE listed. Designed in the USA. Made in China.
Material Content: Polyester Flannel Cover, Cotton Liner, Hook and Loop.
Instructions to Wear: With rigid side up, slip SmartGlove PM on your arm with thumb through side opening. Your palm rests on a bead-filled pad, and your fingertips should remain inside the SmartGlove PM as much as possible. Pull hook and loop strap - avoid pulling too tightly. Easy Care: Secure hook and loop strap. Machine wash cold. Air dry.