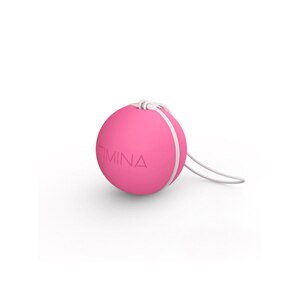 Intimina by Lelo Laselle Kegel Exerciser 38 grams
Laselle Kegel Exercisers offer an easy and effective way of strengthening the muscles of the pelvic floor (PC muscles). Designed for the real world, where busy women have busy lives, they can be incorporated into a traditional pelvic floor strengthening routine to assist women in achieving the most complete and effective exercise without much conscious thought.
How they work: Laselle Kegel Exercisers naturally position themselves in the correct location and provide a firm object for women to flex their muscles around. Additionally, they give off subtle kinetic vibrations caused by the movement of their weighted inner ball, encouraging women's PC muscles to contract.
Key Advantages:
Body-safe silicone shell : FDA approved & phthalate-free ABS
Discrete and effective pelvic floor strengthening
Three different weights provide different levels of resistance and can be combined and adapted towomen's routine
Includes:
Instruction booklet
White Storage Pouch
1-Year warranty