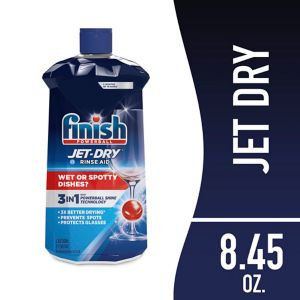 Jet-Dry Original Rinse Agent
Superior spot & residue protection for 80 washes! (vs. detergent alone). (Based on average rinse agent release of leading dishwashers). Number 1 recommended brand. Recommended by more dishwasher brands. (More dishwasher brands recommend Finish Jet-Dry products than any other brand). Use Finish Jet-Dry Rinse Agent for sparkling clean dishes and glasses! Maytag; Whirlpool Home Appliances; Bosch; KitchenAid Home Appliances (Whirlpool, KitchenAid and Maytag are registered trademarks of Whirlpool, USA, KitchenAid, USA, or Maytag Corporation or its related companies). Shines! Fights filming! Dries! Made in USA.
Keep out of reach of children. Caution: May cause eye and skin irritation. Avoid contact with eyes and skin. Contains non-ionic surfactant. Wash hands immediately after use. First Aid: If in eyes, immediately rinse eyes with plenty of water. Remove any contact lenses and continue rinsing eyes for at least 15 minutes. If irritation occurs, get medical attention immediately. If on skin, wash with plenty of soap and water. Get medical attention if irritation occurs. Finish Jet-Dry Rinse Agent is safe for septic systems.