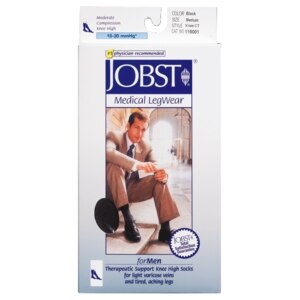 Jobst Medical Leg Wear for Men Knee High Socks Black Medium
Moderate Compression 15-20 mmHg (The mean compression for an average ankle size). Therapeutic support knee high socks for light varicose veins and tired, aching legs. No. 1 physician recommended. Jobst for Men look like fine quality dress socks yet promote continuous relief from tired, aching legs and the pain and discomfort associated with severe varicose veins, ulcers and edema. Physician recommended gradient compression improves blood flow and helps prevent swelling. Promotes a cool, dry feeling through the use of special wicking fibers. Fights odor with special formula. Strong, durable yarns that last. For comfort, health and style. Your legs deserve Jobst! Made in U.S.A.
Nylon (76%), Spandex (24%).