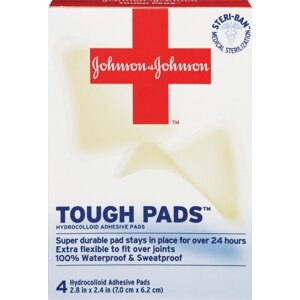 Johnson & Johnson Tough Pads Hydrocolloid Adhesive Pads 2.8" x 2.4"
2.8 inches x 2.4 inches. Steri-Ban medical sterilization. Super durable pad stays in place for over 24 hours. Extra flexible to fit over joints. 100% waterproof & sweatproof. Ideal for minor cuts & scrapes. Johnson & Johnson Red Cross Brand Tough Pads act in place of a scab to encourage fast natural healing. They're made with Compeed Moisture Seal Technology which helps form a gel cushion over the wound to cover painful nerve endings and protect from bumping to help minimize pain. Tough Pads are super durable and waterproof to stay on longer and keep your wound protected. Stays in place for over 24 hours; 100% waterproof & sweatproof; clinically tested & proven to allow for faster healing (vs. ordinary bandages); minimizes appearance of scars; helps minimize pain; great for use on feet, elbows, and knees. Made in Denmark.
Before use, see instruction inside package for correct application/removal methods, and warnings. For best adhesion, warm product in hands before application.
Sterility guaranteed unless individual wrapper is damaged or opened. Do not use on infected or deep puncture wounds or on burns. Do not use over stitches. Diabetics and those with poor circulation, wound healing problems, or fragile skin should not use this product. If redness or swelling occurs, discontinue use and consult a physician. For medical emergencies seek professional help.