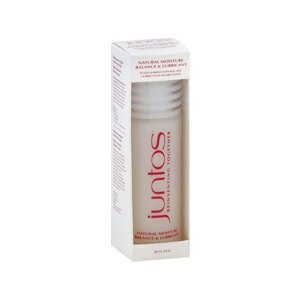 Juntos Natural Moisture Balance & Lubricant
Reinventing together. Experience the finest sexual wellness products on earth. These products are designed by global distributor Cartha Labs to enhance your intimate pleasure. Premium Juntos products are 100% guaranteed, safe, non-toxic, naturally luxurious and cruelty free. Helps restore vaginal moisture naturally. Helps hydrate dry, delicate tissues. Juntos Natural Moisture Balance & Lubricant brings soothing and immediate relief from vaginal dryness experienced by many women due to childbirth, menopause, tampon use, medications, stress or exercise. This estrogen-free blend is safe for long term use. Use daily or as needed. Non-greasy. Non-toxic. Fragrance free. Long lasting. No parabens or propylene glycol. This product is not intended to diagnose, treat, cure or prevent any disease. Made in the US in FDA registered facilities.
Water, Sorbitol, Glycerin, Hydroxyethylcellulose, Sodium Benzoate, Potassium Sorbate, Lactic Acid.
Apply to genital area. Vary amount to achieve desired lubrication. Store at room temperature.
If irritation or discomfort occurs, discontinue use and consult a doctor. This product is not a contraceptive and does not contain a spermicide. Keep out of reach of children.