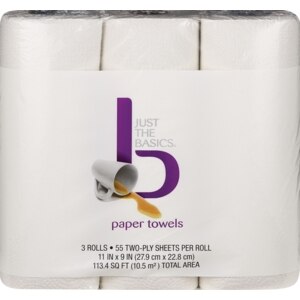 Just the Basics Paper Towels 55 Sheets, 3/Pack
You May Also Like
Size: 32 OZ

$3.99

(12.5¢ / oz.)
113.4 sq ft. 55 two-ply sheets per roll. 11.0 x 9.0 inches. Not whitened with chlorine. Strong & absorbent. 100% recycled content.
Buying recycled paper products reduces the need to cut down trees. You can help preserve the earth's resources by purchasing Earth Essentials Paper Towels. They're strong, absorbent, and made from 100% recycled fibers. Made in USA.
To avoid danger of injury or suffocation, keep this plastic packaging away from babies & children.