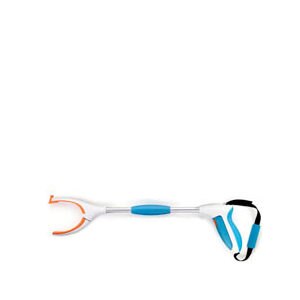 Reacher 20" - Extend, grab, and enjoy.

This innovative reaching aid helps safely retrieve things that are too high or far away. No more ladders, standing on chairs, stooping or bending over.The Reacher's unique trigger lock grabs hold of cans, jars-anything that's hard to reach-and locks on them. That means less muscle and joint strain in the hands and arms. Available in two sizes: 20" and 32"
Features:
Unique, patent-pending design with trigger-lock to eliminate muscle stress
Two sizes: 32" and 20"
Soft, comfort grip and comfort handle facilitate safe two-hand reaching
Convenient carry strap
Soft rubber-like teeth grip anything up to 3.5" diameter
5 lb. maximum lifting capacity
Bright optical orange aids depth perception
Includes dressing hook to help retrieve, pull on socks, shoes, and pants