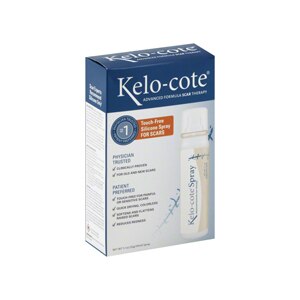 Kelo-Cote Advanced Formula Scar Therapy Spray
No. 1 physician trusted. No. 1 patient preferred. Touch-free silicone spray for scars. Physician Trusted: Clinically proven; for old and new scars. Patient Preferred: Touch-free for painful or sensitive scars; quick drying, colorless; softens and flattens raised scars; reduces redness. Scar experts recommend silicone only (Mustoe Te et al. Plast Reconstr Surg 2002;110:560-571). Intended Use: Kelo-cote Spray is intended for the management of old and new scars, including hypertrophic and keloid scars, resulting from general surgical procedures, trauma, wounds and burns. Kelo-cote Spray rapidly dries to form a silicone gel sheet without touching or rubbing. For prevention of abnormal scars, use as soon as the wound is closed or sutures are removed. This 50 ml can contains enough Kelo-cote Spray, when used as directed, to treat an area of 15 square inches (3 inches x 5 inches) or 91 cm squared (7 cm x 13 cm) twice per day for approximately 6 weeks. Improves the appearance of scars from: surgery; burns; cosmetic procedures; cuts/injury; c-sections; trauma. Kelo-cote is the only patented, transparent, self-drying silicone gel, for the treatment of keloids and hypertrophic scars. Helps soften and flatten scars for a less noticeable appearance. With Siliclear Complex. Patented technology. Unique blend of silicones. Cross links & binds to skin. Forms flexible, breathable layer. 2x a day. Fewest applications per day compared to other scar products. Clinically proven for old and new scars. 80% of patients rated Kelo-cote's effectiveness as good/very good on a wide range of scars (Sepehrmanesh M, Komp Dermatologie 2006; 30-32).
Butane, Pentane, Polysiloxanes, Silicon Dioxide.
Shake can well before use. Ensure that the affected area is clean and dry. Remove cap from the can. Hold can 6 to 8 inches from surface to be treated. Spray along the length of the scar in a light sweeping motion. Kelo-cote Spray should be applied in a very thin, even coating with no holes or gaps on the affected area. Allow to air dry before covering with sunscreen or pressure garments. Kelo-cote Spray should be applied twice daily for 90 days for maximum effect and can be applied under pressure garments.
Kelo-cote Spray contains flammable gases to help deliver the silicone. Pressurized container: Protect from sunlight and do not expose to temperatures exceeding 50 degrees C/120 degrees F. Do not inhale Kelo-cote Spray. Do not use Kelo-cote Spray near the eyes, nose or mouth. Avoid direct contact with mucous membranes, third degree burns and open wounds. For external use only. If irritation occurs, discontinue use and consult your physician. Keep this product out of the reach of children. Store below 25 degrees C/77 degrees F. Do not use after the expiration (EXP) date printed on the can. Extremely flammable. Keep away from heat.