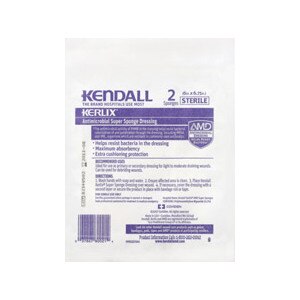 Kendall Antimicrobial Super Sponge Dressing
6 x 6.75 in. Sterile. The brand hospitals use most. AMD - antimicrobial dressing helps resist bacteria (The antimicrobial activity of PHMB in the dressing helps resist bacterial colonization of and penetration through the dressing, including MRSA and VRE, organisms which are resistant to commonly used antibiotics). Helps resist bacteria in the dressing. Maximum absorbency. Extra cushioning protection. Recommended Uses: Ideal for use as primary or secondary dressing for light to moderate draining wounds. Can be used for debriding wounds. Made in USA.
Contains: Polyhexamethylene Biguanide (0.2%).
1. Wash hands with soap and water. 2. Ensure affected area is clean. 3. Place Kendall Kerlix Super Sponge Dressing over wound. 4. If necessary, cover the dressing with a second layer or secure the product in place with bandage roll or tape.
For single use only. Sterility guaranteed unless package is opened or damaged. Seek professional assistance for treatment in medical emergency.