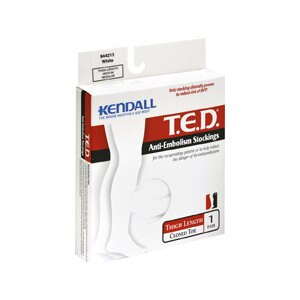 Kendall TED Anti-Embolism Stockings Thigh Length White, Medium Regular
The brand hospitals use most. Only stocking clinically proven to reduce risk of DVT! For the recuperating patient or to help reduce the danger of thromboembolism. Proper sizing and application must be assured. Sizing Chart: Calf circumference 12 - 15 (inches): Length 29 - 33 (inches) = Medium Regular. T.E.D. stockings are specifically designed to speed blood flow by providing graduated compression up the leg. Compression is tightest at the ankle and gradually diminishes up the calf. Pressure pattern stays in place for continued benefit. Designed to maintain circulation. Defined heel pocket for easy sock orientation. Interrupted band. Two-ply gusset. Made in USA.
1. Measure upper thigh circumference at the gluteal furrow. For thigh length Kendall T.E.D. Stockings do not apply if over 25 in. 2. Measure calf circumference at the greatest portion. 3. Measure distance from bottom of heel to gluteal furrow. (If possible, measure length in standing position). Wear Instructions: 1. Insert hand into stockings as far as the heel pocket. Grasp center of heel pocket and turn stocking inside out. 2. Carefully position stocking over foot and heel. Center heel in heel pocket. 3. Pull stocking up and around ankle and calf, working up to the final position. The stitch change (change in fabric sheerness) should fall 1-2 inches below the bend of the knee, and top band rests on line at bottom of buttocks. Smooth out any excess material. Care Instructions: To preserve life of stockings, launder every three days. Keep the stockings free from substances such as ointments, oils and lanolin which deteriorate elastic. Wash in water temperatures not to exceed 160 degrees F (71 degrees C). Avoid excess bleach. Dry in temperatures not to exceed 250 degrees F (121 degrees C) for no longer than 20 minutes. Remove from dryer promptly. Prolonged heat can reduce the stocking's wear life.
This product contains natural rubber latex which may cause allergic reactions. These stockings are only to be worn on the advice of your doctor and for the recommended time period. Do not under any circumstances turn down top of stockings.