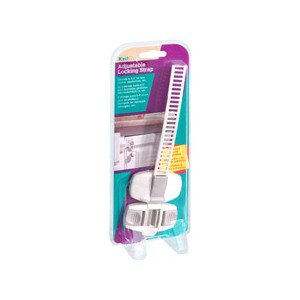 KidCo Adjustable Locking Strap
Extends to 8.5 inches for lazy Susans, appliances etc. Adhesive mount installation.
Note: Apply adhesive to product. Installation: WARNING: As an additional safety precaution, the catch and strap only lock together in one direction. If clip accidentally locks, use slotted screwdriver to open (A) (see package). Determine best location for lock. Where possible, place lock out of child's reach. Clean applicable surfaces and let dry thoroughly. Surface should be smooth, flat and grease free. With strap, catch and clip secured together (but not locked) determine necessary length of strap by moving clip along strap. Position lock so strap is taut. Cut off excess strap. Press to lock. Remove tape backing. Adhere to location. Allow tape to set 24 hours for maximum adhesion. Screws not included, but may be used. Operation: Open-Pinch upper and lower levers of catch together. Flip strap out. Lock-Push strap back into catch. Warranty: If not completely satisfied with this product, KidCo will replace it free of charge.
This product is not a substitute for adult supervision. Never leave child unattended.