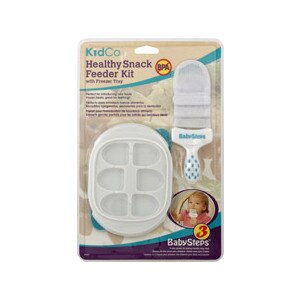 KidCo Healthy Snack with Freezer Tray Feeder Kit Baby Steps 3
BabySteps 3. No BPA. Perfect for introducing new foods, frozen treats; great for teething. Freezer tray has 6 compartments perfectly sized for netted bags. Cold treats are great for teething discomfort. Dishwasher safe. Contains: 1 feeder, 3 bags, freezer tray/lid. 6+ months. BabySteps Healthy Snack Feeder provides a safe snacking option that's perfect for introducing new, age appropriate foods to your child. The netted bag help keep large pieces out of baby's mouth, preventing a choking hazard. The freezer tray creates the perfect size frozen treats the slip directly into the netted bag; and the cold surface is great for teethers! Try some of these great frozen treats: breast milk or formula, banana, applesauce, pureed sweet potatoes. Made in China.
Wash Feeder, Bags and Tray before first use. Unsnap side hinges on feeder and open. Put food/frozen treat in bag and place open end of bag inside feeder. Close and snap hinges. after each use, turn bag inside out and remove as much food as possible. Toss everything in dishwasher.