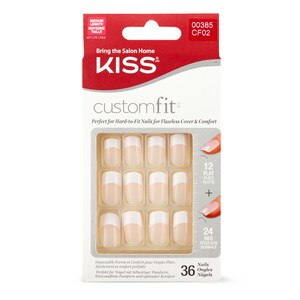 Kiss Custom Fit French Nail Kit Medium Length Flat Nails Made-To-Order
36 nails. 20 sizes. 12 flat + 24 regular. Glue-on. 7 day wear. Perfect for hard-to-fit nails. Flawless fit & comfort for flat nails. Flawless fit everytime! Solvent free. Superior fit & flexibility versus other brands. Most natural fit. Acrylic strength tip. Salon results. Most comfortable nail ever - guaranteed. Kit Contains: 36 nails - 12 flat and 24 regular, pink gel glue [0.07 oz (2 ml) 2 g], manicure stick, Nails made in China. Pink gel glue made in Japan. Assembled in China.
Product Type:

Artificial Nails
Nails: ABS Plastic. Pink Gel Glue: Ethyl Cyanoacrylate, Polymethyl Methacrylate, BHA, Acetyl Tributyl Citrate, Retinyl Palmitate, Tocopherol, Panthenol, CI 15850.
How to Prepare: Clean nails with acetone-based polish remover. Select the correct size nails for each finger. If needed, file sides for best fit. How to Apply: 1. Apply glue to nail. 2. Apply thin layer of glue to natural nail. 3. Starting at cuticle, press on & hold for 5 seconds. Note: Wear beyond 7 days is not recommended. How to Remove: 1. Do not force or pull nails off. 2. Trim and file surface to break through protective topcoat. 3. Use artificial nail remover. Otherwise, soak nails in acetone based polish remover until soft. Wipe off softened plastic and glue.
Contains cyanoacrylate. Eye irritant. Bonds skin and eyes in seconds. If skin bonding occurs, do not pull; peel apart gently using acetone or polish remover. If eye contact occurs, flush immediately with water. See physician at once. Avoid contact with clothing as burns may occur on skin. Do not use on nails that are infected, damaged, thin or weak. Keep out of reach of children.