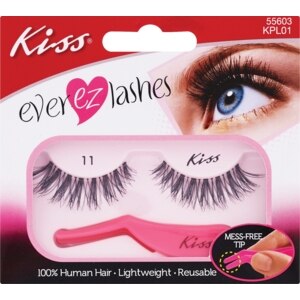 Kiss 100% Human Hair Ever EZ Lashes, 11
Lightweight, reusable. Mess free tip. Kiss applicator makes applying lashes quick and easy. Suitable for contact lens wearers. Kissusa.com. Made in Indonesia.
Product Type:

False Lashes
How to Apply Lashes: 1. If needed, trim lash to fit your eyes. 2. Apply Kiss strip lash adhesive to lash band; wait 30 seconds for adhesive to become slightly tacky. 3. Using the applicator, apply lashes along natural lash line. Hold allowing adhesive to dry completely. To Remove Lashes: Gently peel off lash strip, starting at the outer corner. Use oil-based makeup remover to remove excess adhesive from lash band and eyelid. Place lashes back onto the tray for future use.