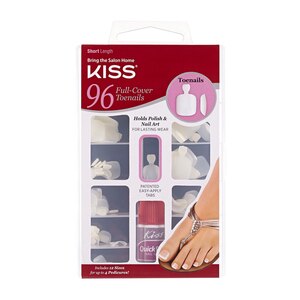 Kiss Salon Results Full Cover Toe Nails
Kit Contents: 96 toenails (12 sizes), nail glue [0.11 oz]. Glue-on. 7 day wear. Trim & file to any shape. Patented easy application self tabs. Kiss nail tips are strong, natural-looking and easy to remove. Used by professionals - Kiss nail tips are the number one choice! Solvent free. Nails made in China. Nail glue made in Japan.
Product Type:

Artificial Nails
Nails: ABS Plastic; Nail Glue: Ethyl Cyanoacrylate, Polymethyl Methacrylate, BHA, Acetyl Tributyl Citrate, Retinyl Palmitate, Tocopherol, Panthenol, CI 15850.
Preparing Your Toenails: Clean nails of any polish or oil with nail polish remover. Trim and file the free edge of toenails. Push back cuticles with a manicure stick. How to Apply: 1. Select the correct size nail for each toe. If needed, file sides of nails for correct fit. Place in sequence. 2. Holding artificial nail by numbered edge, apply glue onto the back area where it will come in contact with your natural nail. 3. Apply a layer of nail glue onto natural nail. Be sure to apply enough glue for proper adhesion. 4. Using the cuticle as a pivot point, slowly lower artificial nail onto natural nail. Wipe off any excess glue surrounding nail bed. Hold firmly until set. 5. Shape and file to desired length. 6. Polish and go! How to Remove: 1. Do not force or pull nails off. 2. Trim off as much artificial nail as possible. 3. For quick, easy removal use nail remover kit or soak nails in acetone-based nail polish remover until soft. 4. Wipe off softened plastic and glue. Repeat process as necessary. Detailed instructions inside.
Contains cyanoacrylate. Eye irritant. Bonds skin and eyes in second. If skin bonding occurs, do not pull; peel apart gently using acetone or polish remover. If eye contact occurs, flush immediately with water. See physician at once. Avoid contact with fabrics as skin burns may occur. Do not use on nails that are infected, damaged, thin or weak. Keep out of reach of children.