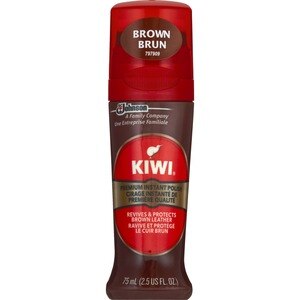 Kiwi Premium Brown Wax Formula
Premiere Shine. Ultra-Brilliant. Superior, easy to use liquid wax polish. Deep natural shine in an instant. Premium wax formula to nourish and protect leather. Unique long lasting two layer sponge with controlled dosage.
Clean and dry shoes. Shake bottle well with cap on. Invert bottle, gently press applicator against shoe to release polish. Spread evenly on surface of shoe. To keep applicator soft, rinse with warm water and blot after use. Protect from freezing.
Keep out of reach of children.