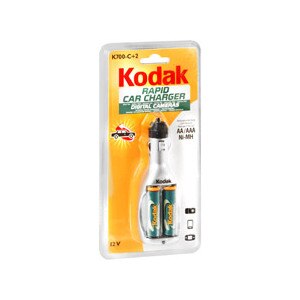 Kodak Rapid Car Charger K700-C+2
Keep this convenient battery charger in your car at all times. Perfect for business travel or while on vacation. This 12 volt power supply recharges your AA batteries right in your cigarette lighter socket in approximately 2 hours allowing you to capture up to 300 pictures per charge.

12 volt power supply
Includes (2) AA 1800 mAh batteries
Recharge time approximately 2 hours
300 pictures per charge
Dimensions [WxHxD]: 1.75x5.0x1.25 in.