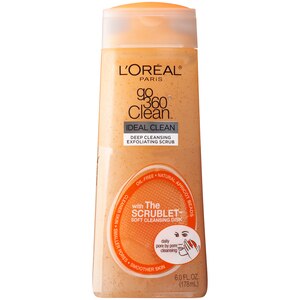 L'Oreal Go 360 Clean Facial Cleanser with Scrublet Deep Exfoliating Scrub
Deep Exfoliating Scrub Formula:
This gentle yet effective scrub exfoliates skin with natural apricot seed powder and salicylic acid to reveal perfectly clean, smoother skin. With a rich lather and fruity, apricot fragrance, this exfoliating scrub is gentle enough for daily use.
The Scrublet:
Go 360 Clean brings to market the very first Scrublet, a super-soft, flexible cleansing disc that applies the collections cleansers with 500 extra-supple touch points that gently glide across the skin, activating the cleanser formulas on contact, creating a hi-foaming lather. This rich lather goes very deep into pores, unclogging them, and gently removing traces of dirt, oil and makeup in every last pore, crease and crevice.
Benefits:
Clinically proven to clean better than traditional cleansers for more beautiful skin.

Smaller pores: Go 360 Clean shrinks the appearance of pore size and refinishes the skins surface to reveal skin with more clarity
Deeper cleansing: Unique formulas reach down deeper to every last pore for a deep, deep clean. Keeps pores clean day after day
Softer skin: Sweeps away dead skin cells for an extraordinary softening and smoothing effect
Easy-to-use: Scrublet cleanses pore-by-pore with a fuss-free cleansing process
Product Type:

Cleansing

Formulation:

Cream

Ship & Save:

Ship & Save Eligible