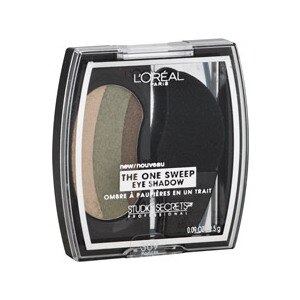 L'Oreal Paris The One Sweep Eye Shadow Playful for Green Eyes 309
Unique applicator applies 3 shades in One Sweep to define, color, and highlight eyes. Eyeshadow made in USA. Applicator made in China.
Application Instructions for Professional Designed Eyes: Right Eye: 1. Fit curve of applicator to curve of powder. Sweep down. 2. Sweep across right eyelid. Left Eye: 1. Flip applicator around. Sweep up. 2. Sweep across left eyelid. Pro Tips: Use applicator tip to blend. Apply darkest shade closest to lash line.