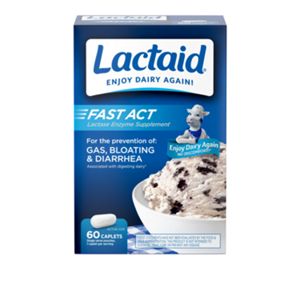 Compare & Save
with CVS/pharmacy Brands
Size: 60 CP

$13.49

(22.5¢ / each)
Lactase Enzyme Supplement. Twice as fast as ultra! For the prevention of: gas; diarrhea; bloating associated with digesting dairy. No. 1 pharmacist recommended brand. Enjoy dairy again! Single serve pouches: 1 caplet per serving. Lactaid Fast Act helps prevent the gas, bloating or diarrhea that many people may experience after eating foods containing dairy. How does Lactaid Fast Act supplement work?: Helps to prevent symptoms by breaking down milk sugar (lactose) and making dairy foods easier to digest; Not a drug, but a dietary supplement containing the natural lactase enzyme; Works naturally and may be used by everyone ages 4 years and up. Why is Lactaid Fast Act better than ultra?: Starts working quickly, so more milk sugar (lactose) can be broken down overall (based on simulated lactose digestion studies); Starts working more than two times faster than any ultra strength product available (based on simulated lactose digestion studies); Same convenient single pill dose. Lactaid Fast Act starts working faster than any Ultra strength product available (based on simulated lactose digestion studies)! (This statement has not been evaluated by the Food & Drug Administration. This product is not intended to diagnose, treat, cure or prevent any disease.) Made in Canada.
Other Ingredients: Microcrystalline Cellulose, Croscarmellose Sodium, Crospovidone, Magnesium Stearate, Colloidal Silicon Dioxide.
Nutrition Facts
Serving Size: 1 caplet
Servings Per Container: 60
Variation:
| Nutrient | Amount per Serving | % Daily Value |
| --- | --- | --- |
| Sodium | 5 mg | -1 % |
| Lactase Enzyme 9000 FCC Lactase Units | 9000 LU | |
How do you use Lactaid Fast Act supplement?: Swallow 1 caplet with your first bite of dairy foods. If necessary, you may swallow 2 caplets at one time. If you continue to eat foods containing dairy after 30-45 minutes, we recommend taking another caplet. How often can you use Lactaid Fast Act supplement?: May be used every time you eat food containing dairy. Can be used with every meal and snack, every day. Store at or below 77degrees F.
Consult you doctor if you symptoms continue after using this product or if your symptoms are unusual and seem unrelated to eating dairy. Keep out of reach of children. Do not use if carton or single-serve packet is open.