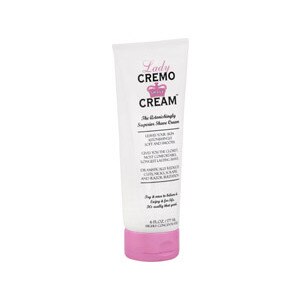 The astonishingly superior shave cream. Leaves your skin astonishingly soft and smooth. Gives you the closest, most comfortable, longest lasting shave. Dramatically reduces cuts, nicks, scrapes and razor irritation. Try it once to believe it. Enjoy it for life. It's really that good. Highly concentrated. Most shave creams and gels are actually foam - which is primarily air. Visualize a sharp blade scraping across your delicate skin with air as the main lubricant. It tears your skin, creates razor bumps, nicks, cuts and leaves your skin looking and feeling rough. Cremo has no air: it's an extremely rich cream. It contains unique, super-lubricating, highly-slippery molecules that have been compounded with powerful skin conditioners. Together, they make your blade glide effortlessly over your skin like an ice skate. It leaves your skin astonishingly soft and smooth. We thin you will find this is better than anything else you have ever used. Have a nice shave. Animal friendly. Made in USA.
Water (Aqua), Sodium Cocoyl Isethionate, Stearic Acid, Glycol Distearate, Cetearyl Alcohol, Macadamia Ternifolia Seed Oil, Polyether-1, Hydroxypropyl Guar Hydroxypropyltrimonium Chloride, Allantoin, Aloe Barbadensis Leaf Juice, Calendula Officinalis Flower Extract, Xylitol, Citrus Medica Limonum (Lemon) Fruit and Carica Papaya Fruit Extract, Olea Europaea (Olive) Leaf Extract, Limonene, Coumarin, Perfluoromethylcyclopentane, Benzyl Benzoate, Phenoxyethanol, Ethylhexylglycerin, Benzyl Salicylate, Titanium Dioxide, Butylphenyl Methylpropional (Lillal), Citric Acid, Fragrance (Parfum).
Rub your skin with the hottest water you can stand for 30 seconds (in the shower works best or use a hot towel). Leave your skin wet: Cremo Cream is water-activated. Lightly coat your skin with an almond-sized squeeze of cream. Less is often best!. Add a few drops of water to make and keep it slippery. Shave. If the razor clogs, use more water or less Cremo. Massage cream back into skin you want to re-shave. This product is so effective, most can comfortably shave against the grain for an even closer, longer lasting shave.