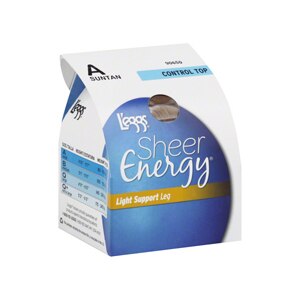 L'eggs Control Top Sheer Toe A Suntan
The sheerest support for beautiful, healthy legs. A sheerer Sheer Energy. Perfect balance of sheerness and support. Enhances circulation to maintain healthy, energetic legs. Helps tone tired legs for constant soothing relief. Control Top panty for a smooth look. Assembled in El Salvador.
Panty: Nylon (82%), Spandex (18%). Leg: Nylon (80%), Spandex (20%).
Hand wash separately. Do not use bleach. Line dry.