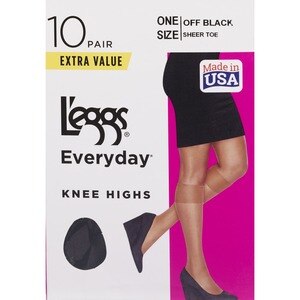 L'eggs Everyday Knee Highs Sheer Toe One Size Off Black
Enjoy the classic fit of L'eggs hosiery - every day! Your favorite styles and the comfort of L'eggs hosiery. All at a great value! Light, comfortable stay-put band. Perfect for today's more casual wardrobes. Fits most women from 4 foot 10 inch to 6 foot 0 inch tall and weighing 85 - 200 lbs. L'eggs hosiery is proud to guarantee our products against manufacturing defects. You're in luck. You're in L'eggs. www.leggs.com. Package, excluding window film, made from 100% recycled materials. Made in USA containing USA and imported yarns.
Hand wash separately in cold water. Do not use bleach. Line dry. Do not iron.