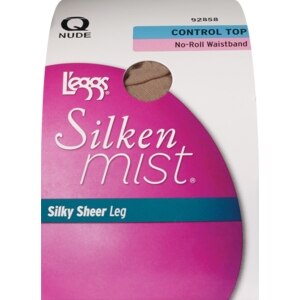 L'eggs Silken Mist Silky Sheer Leg Control Top No-Roll Waistband, Q Nude
Contents: 1 pair. Size Q Large: Height: 4 feet 11 inches to 6 feet 0 inches. Weight: 145-200 lbs. Silky sheer leg. Silky smooth for glamorous legs. Silky sheer leg provides a flawless finish. No-roll waistband provides a flattering, comfortable fit. Control top panty. No-roll waistband. Sheer toe. L'eggs hosiery proudly guarantees all products against manufacturing defects. You're in luck. You're in L'eggs. www.leggs.com. This package, excluding the window film, is recyclable in the US. Made in El Salvador.
Panty: Nylon (82%), Spandex (18%). Leg: Nylon (85%), Spandex (15%).
Hand wash separately in cold water. Do not use bleach. Line dry. Do not iron.