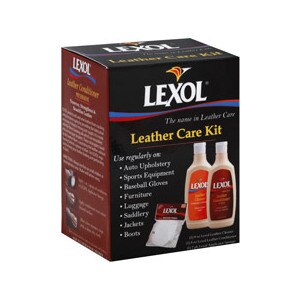 The name in leather care. Use regularly on: auto upholstery; sports equipment; baseball gloves; furniture; luggage; saddlery; jackets; boots. (1) 8 oz Lexol leather cleaner. (1) 8 oz Lexol leather conditioner. (1) 2 pk Lexol applicator sponge. The premium name in leather care. Lexol is the most trusted name in leather care and the top choice of professionals for cleaning and restoring fine leather. The Lexol family of leather care products is carefully formulated to maintain the beauty and durability of all types of fine leather. Non-alkaline Lexol-pH Leather Cleaner quickly and safely removes dirt - leaving leather clean and prolonging fiber life. Lexol Leather Conditioner and Preservative replenishes the oils that keep leather soft and supple, restoring its beauty and resilience. Regular use of Lexol products can help: prevent cracking; extend the longevity of leather; keep leather looking its best. Leather Cleaner: Safely cleans leather. Lexol Leather Cleaner is strong enough for tough jobs but gentle enough for the finest leather. Lexol-pH Cleaner is pH-balanced to match the pH of your leather. This preserves the leather's strength, durability and appearance. Lexol Leather Cleaner rinses easily, leaving leather healthy, supple and able to breathe. It contains no harsh ingredients that can damage, discolor or dull leather. Leather Conditioner: Preservative. Preserves, strengthens & beautifies leather. Lexol protects old and new leather from cracking and premature aging by providing the lubrication necessary to keep it strong and supple. It is made with the finest tanning oils which are emulsified into microscopic droplets. These oil droplets bond to the leather fibers, nourishing the leather without leaving behind a greasy residue. Use Lexol regularly to keep your leather looking and performing its best.
Leather Cleaner: Always test first on a small, hidden or inconspicuous area. Shake well before using. Apply Lexol-pH to the wet Lexol applicator sponge. Rub briskly onto leather to work up a lather. Use a damp cloth to wipe away foam and dirt. Towel dry. For a complete treatment, follow cleaning with Lexol Leather Conditioner. Leather Conditioner: Always test first on small, hidden or inconspicuous area. Shake well before using. Apply 1 or 2 sprays of conditioner to Lexol Applicator Sponge. Apply conditioner over entire cleaned surface. After a few minutes, wipe with a clean, dry cloth.
Not recommended for suede or extremely soft leathers. Keep out of reach of children.