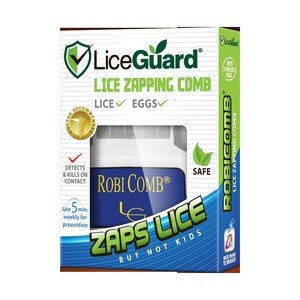 LiceGuard Robi Comb Electronic Lice Comb
Lice. Eggs. Zaps lice but not kids. Doctor recommended. Detects & kills on contact. Use 5 min weekly for prevention. Safe. RobiComb. Eliminates lice and nits. RobiComb: Eliminates lice and nits; Detects lice; Non-toxic and pesticide-free; Kills shampoo resistant lice; No wetness, no mess, and no odor; Reusable for prevention. Leading Lice Toxic Shampoos: Eliminates lice and nits. Product Facts: Uses: Detects, eliminates, and prevents lice and eggs. AA battery not included. Questions? Call or www.LiceGuard.com. Proven. Safe. Prevents. Non-toxic. Easy. Over 2 million sold. Micro charge technology. Please recycle. Not tested on animals. CE listed. RoHS. Made in PRC.
This item is FSA (Flexible Spending Account) eligible.
Easy to Use: Insert AA battery (not included) into RobiComb. Turn on RobiComb. Listen for high-pitched hum. RobiComb is ready to use. Comb through dry hair close to scalp. When the humming stops, the RobiComb's MCT technology has detected and killed lice on contact. Read full instructions inside or visit www.LiceGuard.com for video instructions.