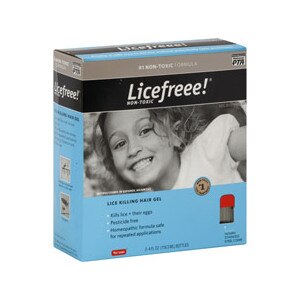 Licefree Lice Killing Hair Gel
No. 1 non-toxic formula. No. 1 non-toxic lice treatment. Kills lice + their eggs. Pesticide free. Homeopathic formula safe for repeated applications. Includes stainless steel comb. Finally, a safe way to kill lice without potentially toxic pesticides. Keep your family safe by using a product with a natural active ingredient. The non-toxic formula of LiceFreee! uses the naturally occurring mineral, sodium chloride, USP (Natrum Muriaticum) as the active ingredient to kill head lice. Licefreee! is free of pyrethrum and permethrin. The clear gel goes on dry hair easily and has an herbal spice scent that makes application pleasant for both adult and child. The formula is also safe for multiple applications because there is no harmful pesticide residue left on the hair or scalp. Licefreee! Non-Toxic Lice Treatment is an effective and pleasant change from the other lice treatment products available. Kills head lice, crab lice and body lice. No harmful pesticide residue. Safe for repeated applications. Permethrin, Pyrethrum and Lindane free. No. 1 selling non-toxic pediculicide, source: IRI Food, Drug and Mass January 22, 2006. PTA and Licefreee! As a proud sponsor of the National PTA, Licefreee! and Tec Labs are pleased to offer financial and educational support to PTA leaders nationwide. The goal of our partnership is to provide the necessary materials and training to PTA members who are helping their schools identify and treat head lice outbreaks.
Active Ingredient: Natrum Muriaticum 1X (Sodium Chloride, USP). Inactive Ingredients: Aminomethyl Propanol, Anise Oil, Carbomer, Cocamide DEA, Fragrance, Polysorbate 20, Purified Water.
Adults and Children 6 Months of Age and Older: Shake well. Apply to dry hair and entire scalp, starting at the nape of the neck and behind ears (where lice congregate) and work forward. Thoroughly saturate all hair and scalp; to be effective, all lice and nits must come in full contact with the product. Put plastic cap on head and leave on for at least 60 minutes; for best results stay in a warm room. With product still in hair, remove plastic cap and comb out all dead lice and nits with enclosed fine toothed comb; rinse comb out under running water. Once all lice and nits are combed out, rinse hair thoroughly with warm running water. Thoroughly inspect and comb hair and scalp a second time to ensure complete removal of all lice and nits. Licefreee! may be used as often as necessary; a second treatment in 7-10 days is recommended to kill any newly hatched lice. Children Under 6 Months of Age: Do not use, consult a doctor. Store at 59-86 degrees F (15-30 degrees C). Helpful hints Self-medication is not advised since it is impossible to inspect yourself for nits and lice. Personal combs and brushes may be disinfected by soaking in hot water (above 130 degrees F) for 5 to 10 minutes. All personal clothing items and bed linen should be disinfected by machine washing in hot water and drying, using the hot cycle of the dryer for at least 20 minutes.
For external use only. Ask a doctor before use if you have infestation of eyebrows or eyelashes. When using this product do not use in or near the eyes; do not permit contact with mucous membranes, such as inside the nose, mouth, or vagina, as irritation or stinging may occur; close eyes tightly while hair is being rinsed; do not open eyes until product is rinsed out; stinging may occur during the first 10 minutes of application; this is normal and should go away; if it doesn't, rinse hair immediately and discontinue use. Stop use and ask a doctor if skin irritation or infection is present or develops. Keep out of reach of children. If swallowed, get medical help or contact a Poison Control Center right away.