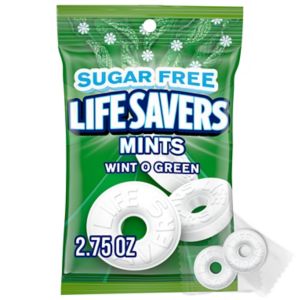 Life Savers Hard Candy Sugar Free Wint O Green
Reduced calorie! 40% Fewer calories than regular Wint-O-Green Hard Candy. Individually wrapped. 0g sugar and carbs. Discover the delicious taste of Sugar Free Wint-O-Green Life Savers. Each refreshing piece is not only sugar free, but also reduced in calories! Enjoy the mouthwatering refreshment of Life Savers candies now in Sugar Free! Carbohydrate Facts: Total Carbs (14g) - Sugar Alcohol (13g) = Carb Count (1g). For those counting carbs to help control their blood sugar level, the 13 grams of carbohydrates in this product come from sugar alcohol, product has a minimal impact on blood sugar. Be sure to count calories too. This product contains 35 calories per serving compared to 60 calories per serving of our regular Wint-O-Green candy. Made in Canada.
Sorbitol, Natural and Artificial Flavor, Magnesium Stearate, Aspartame (Sweetener).
Phenylketonurics: Contains phenylalanine. Excessive consumption may have a laxative effect.