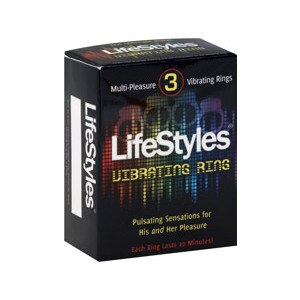 LifeStyles Multi-Pleasure Vibrating Rings
Pulsating sensations for his and her pleasure. Each ring lasts 20 minutes! A tantalizing experience for both partners! Lifestyles Vibrating Ring is ergonomically designed to deliver pulsating ecstasy, and is reusable. Soft vibrating studs on the vibrating ring enhance the stimulation and provide good fit and excitement. Vibration lasts for 20 minutes of sensual satisfaction. Specially formulated pliable silicone ring provides more comfort than other brands. Vibrating ring is condom compatible. The ultimate buzz! Vibrating ring manufactured in China.
Avoid excess heat. Store at room temperature. Please read enclosed washing and use instructions for the vibrating ring.