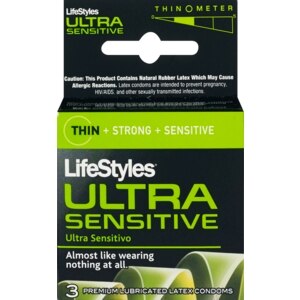 Lifestyles Ultra Sensitive Condoms Lubricated Latex
Protection + Extra Comfort, Extra Pleasure, Extra Fun. Proven protection that feels really good! Almost like wearing nothing at all. LifeStyles condoms deliver proven protection against pregnancy and, if used properly, will help reduce the risk of transmission of HIV (AIDS) infection and many other sexually transmitted diseases. Take a trip to the pleasure zone: Fun. Comfort - Our unique stretchable latex moves with you, delivering proven protection that feels really good! Sensitivity - A LifeStyles condom delivers so much sensitivity, it feels like wearing nothing at all. Ultra Sensitive: Flared shape for ultimate sensitivity and comfort; Lubricated for maximum pleasure; Thin for heightened sensation. LifeStyles condoms are tested to meet US safety and reliability standards. Product of India.
Avoid excess heat. Store at room temperature.
This product contains natural rubber latex which may cause allergic reactions.