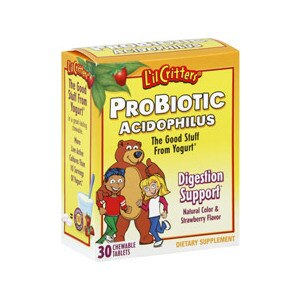 L'il Critters Probiotic Acidophilus Strawberry Tablets
Dietary Supplement. Chewable. The good stuff from yogurt in a great-tasting chewable. Digestion support. Natural color & strawberry flavor. More live active cultures than 10 servings of yogurt. 2 chewables = 10 servings of yogurt. Probiotic acidophilus digestive support. Gluten free. Soy free. Natural strawberry flavor. Helps maintain a healthy digestive system. The good stuff from yogurt. Natural color & strawberry flavor. Trusted as a leader in probiotics. The makers of L''il Critters have been a leader in probiotics for over 25 years, promoting good bacteria that aid in healthy digestion. L''il Critters Probiotic Acidophilus is a combination of naturally beneficial bacteria and great taste, bringing all the good stuff from yogurt into a tasty chewable tablet parents can trust. We make nutrition taste good. May help restore good bacteria after taking antibiotics. Promotes a healthy digestive system. May help with occasional common digestive problems. This product contains no artificial colors or flavors. Contains no wheat (gluten), eggs, peanuts, tree nuts or soy. Based on the National Yogurt Association standard of 100 million live, active cells per serving. Each serving contains 1 billion good bacteria at the time of manufacture. (These statements have not been evaluated by the Food and Drug Administration. This product is not intended to diagnose, treat, cure or prevent any disease.)
Proprietary Probiotic Blend: Lactobacillus Acidophilus, Lactobacillus Salivarius, Bifidobacterium Bifidum, Lactobacillus Helveticus, Lactobacillus Plantarum, Lactobacillus Rhamnosus, Streptococcus Thermophilus. Other Ingredients: Dextrose, Fructose, Fructooligosaccharides, Natural Flavor, Magnesium Stearate, Modified Cellulose, Stearic Acid and Citric Acid.
As a dietary supplement, parents may give two (2) chewable tablets per day to each child four years old or older.
Take only as directed. Do not exceed suggested dosage. If your child has a medical condition, or is on medication, please consult a physician before using this product. Not recommended for children under four years of age. Store at room temperature. Do not expose to excessive heat or moisture. Do not use if individual blister seals are broken.