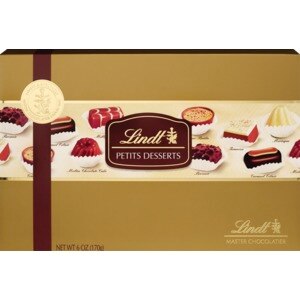 Lindt Petits Desserts Assortment
Master Swiss chocolate since 1845. Since 1845, Lindt's Master Chocolatiers perfected the art of chocolate making. Over 160 years of passion have gone behind making some of the finest chocolates and creating exquisite new recipes. Lindt's Master Chocolatiers craftsmanship is demonstrated with this Petits Desserts assortment featuring an exquisite combination of classic dessert recipes. They have been carefully selected and tastefully arranged to become a gift of chocolate that meets the most exacting demands. Meringue: Pieces of crunchy meringue enveloped in a soft center with a swirl of white chocolate. Tiramisu: Layers of exquisite tiramisu flavored center finished with a delicate white chocolate topping. Molten Chocolate Cake: Decadent milk chocolate shell surrounding a rich, creamy, dark chocolate filling. Creme Brulee: Fine milk chocolate with a delicate vanilla flavored creme brulee center. Brownie: Dark chocolate with chopped hazelnuts and walnuts surrounds a rich dark chocolate truffle center. Caramel Eclair: Magnificent caramel cream surrounded by rich dark chocolate and topped with chocolate icing. Millefeuille: Layers of custard cream and crispy flakes covered with fine milk chocolate. Quality guarantee. www.lindt.com.
Sugar, Cocoa Butter, Milk, Chocolate, Milkfat, Lactose, Hazelnut Praline (Hazelnuts, Sugar), Vegetable Oils (Coconut, Palm, Palm Kernel, Shea), Invert Sugar, Glucose Syrup, Hazelnuts, Cream, Skim Milk, Caramel Pieces (Sugar, Lactose, Butterfat, Skim Milk, Rapeseed Lecithin), Wafer Pieces (Sugar, Wheat, Flour, Butterfat, Whey Powder, Barley Malt Powder, Sodium Bicarbonate), Sorbitol, Cocoa Powder, Walnuts, Biscuit Pieces (Wheat, Starch, Sugar, Palm Oil, Glucose, Ammonium and Sodium Bicarbonate, Milk Proteins), Soya Lecithin (Emulsifier), Meringue (Sugar, Wheatstarch, Milk Proteins), Mascarpone, Cereal Crisps (Wheat Flour, Wheat Malt, Rapeseed Lecithin, Sodium Bicarbonate, Salt, Artificial Flavor), Natural and Artificial Flavors, Barley Malt Powder, Glazing Agent (Gum Arabic), Milk Protein, Disodium Phosphate, Color Added.
Keep cool (60-68 degrees F) and dry.
May contains traces of peanuts/tree nuts.