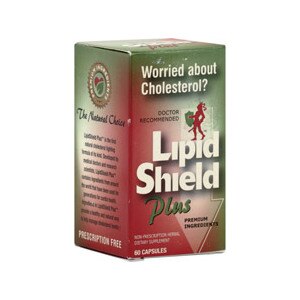 Dietary supplement. Premium ingredients. Worried about cholesterol? Doctor recommended. The natural choice. Lipid Shield Plus is the first natural cholesterol fighting formula of its kind. Developed by medical doctors and research scientists, Lipid Shield Plus contains ingredients from around the world that have been used for generations for cardio health. Ingredients in Lipid Shield Plus provide a healthy and natural way to help manage cholesterol levels (These statements have not been evaluated by the Food and Drug Administration. This product is not intended to diagnose, treat, cure, or prevent any disease). Prescription free. Testimonials: Thank you for Lipid Shield. In just 6 weeks my cholesterol went down 70 points and now after 4 months my cholesterol is now down 104 points - Joyce, Victoria BC Canada. My cholesterol was over the top. After taking Lipid Shield for three weeks it came down 56 points. Now after 2 months on Lipid Shield I lowered my cholesterol by 50%. I am amazed by the results. I recommend Lipid Shield to everyone - Timothy, Coconut Creed, FL. After taking Lipid Shield for only 30 days I have reduced my cholesterol by a whopping 69 points - Tanya, Birmingham, AL. Hooray for Lipid Shield. In three weeks my cholesterol went down 68 points. Thank you, thank you - Jennifer, Stuart, FL. Results not typical and will vary.
Proprietary LipidShield Plus Blend: Plant Sterol and Stanol Esters, Red Yeast Rice Powder, Guggulipid (Standardized for E and Z Guggulsterones), Inositol Hexanicotinate, Policosanol (from Sugar Cane), Selenomethionine. Other Ingredients: Gelatin, Silicon Dioxide, Magnesium Stearate.
As a dietary supplement, take 1 capsule in the morning and 1 capsule in the evening before meals. Store in a cool dry place.
Do not use if seal is broken. Keep out of reach of children. Not intended for anyone under the age of 18. Do not use if you are pregnant or nursing, using statin drugs or other cholesterol lowering medications. Consult a physician before use if you are taking any prescription medication or being treated for a pre-existing medical condition.