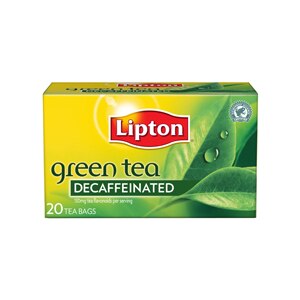 Same great taste. 100% natural. Naturally decaffeinated with pure spring water. AOX Naturally protective antioxidants. 130 mg protective antioxidants per serving. A delicate tea with an alluring aroma and a clean, crisp taste. Live better every day - drink Lipton green tea! Simply good, naturally protective. Lipton Green Tea, made from real tea leaves, naturally contains protective antioxidants (flavonoid antioxidants). This is important because antioxidants help your body protect itself against free radicals-molecules that can damage cells. Lipton Quality - We carefully select the freshest high-grown tea leaves, which we blend to create the finest-quality, great-tasting teas. We even have our own tea estates helping to ensure the consistency of the teas we make. And of course, our teas are 100% natural. No additives, preservatives or colorings. Feel good choosing a tea from a company that is committed to maintaining the goodness of tea. Lipton. The people who love tea. Everything that's good about tea starts with the tea leaf. Flavonoid Content of Selected Beverages & Foods: Lipton Green Tea, 130 decaf; orange juice, 36; broccoli, 10; cranberry juice, 4; coffee, 0. Caffeine Content of Selected Beverages: 4 mg, decaf Lipton Green Tea; 55 mg, Lipton black Tea; 100 mg, drip coffee.
100% Natural Decaffeinated Green Tea.
For a Delicious Cup of Hot Green Tea: Bring fresh cold water to a rolling boil and pour over tea bag. Brew 1 to 1-1/2 minutes or to desired strength. Remove tea bag. Sweeten to taste with honey or sugar. For a Refreshing Quart of Iced Green Tea: Use 4 tea bags. Brew as directed above, using 4 cups boiling water. Sweeten to taste and serve in ice-filled glasses. Serve, if desired, with orange or lemon slices.