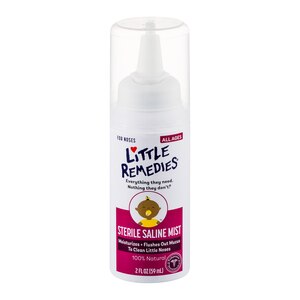 Little Noses Sterile Saline Nasal Mist
For irrigation or moisturization of dry or stuffy noses. Gentle moisturizer. No alcohol or preservatives. No side effects. Use as often as needed. Made in U.S.A.
This item is FSA (Flexible Spending Account) eligible.
Ingredients: Sodium Chloride (0.9%). Other Ingredients: Water.
For nasal use only. In all cases, the saline mist can be activated by pressing down gently on the white actuator. To flush and irrigate nasal passages, tilt infant's or child's head to the side over sink. Insert nozzle into one nostril. Depress the actuator until the saline mist begins to fill nasal passages. Continue to depress the actuator until you see excess fluid flow out nostril. Repeat process with second nostril. To moisturize dry nasal passages, insert nozzle into each nostril. Depress the actuator using 1 to 3 short, gentle bursts of moisturizing saline mist. Wipe nozzle clean after each use. This gentle saline mist can be used as often as needed without the worry of any harmful drug interactions. Store at 20-25 degrees C (68-77 degrees F).
The use of this dispenser by more than one person may spread infection. Contents under pressure. Do not puncture or incinerate can. Do not expose to heat or store at temperatures above 120 degrees F. Keep out of reach of children.