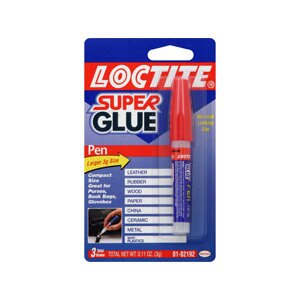 No-leak locking cap. Larger 3g size. Compact size. Great for purses, book bags, glove box. Leather, rubber, wood, paper, china, ceramic, metal, most plastics. Space saving pen dispenses glue when tip is depressed. Super strength formula in clog-free easy grip applicator. Made in USA.
To Open: Align arrows on red cap and container and pull apart. Protect work area. Surfaces should be clean and dry. Press tip down on firm surface to dispense glue. Apply sparingly to one surface. Press parts together and hold for 15-30 seconds. To insure non-clog tip, simply wipe with tissue. Snap cap on container for safe storing. Not suitable for Styrofoam, foam rubber, polyethylene and polypropylene. Bonded items should not be placed in oven, microwave or dishwasher. Fingers bonded?: Soak skin in warm soapy water. Gently massage bonded fingers back and forth to peel bond apart. Use rolling, peeling motion - do not pull.
Contains Cyanoacrylate. May cause allergic skin reaction. Skin contact through clothing may cause burns. Avoid contact with skin and eyes. In case of eye contact, flush with water for 15 minutes; call a physician. For skin contact, flush with water. For ingestion, do not induce vomiting; call a physician. If spilled on clothing, flush with large quantities of water. Keep out of reach of children.