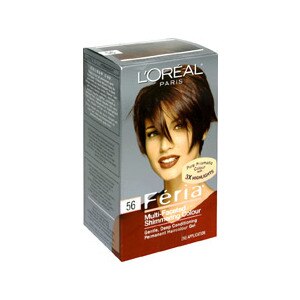 L'oreal Feria - 56 Brilliant Bordeaux (Auburn Brown)
Brilliant Bordeaux. Permanent haircolour gel. Gentle, deep conditioning. Pure prismatic colour with 3 times highlights. Now, pure prismatic colour. So multi-faceted, it shimmers with triple the highlights. Discover colour that speaks to you. So pure and vocal and multi-faceted, it transforms every strand with triple highlights - for even more shimmering highs and lows. Definitely the end of flat, matte colour. Even the conditioner glistens hair with a pure-shimmer concentrate. So express yourself - one shimmering shade at a time. Feria - The new language of colour. Advanced gel-based formula for virtually drip-free application. A major measure of colour - enough for longer hair. Aromatic scent for a soothing sensation. Mega-Dose of deep conditioning with pure shimmer concentrate. Custom-fit colorist gloves for expert, easy coloring. No appointment necessary. Colour Cue: Feria is for all skin tones and hair types. Color shown may be achieved on dark blonde to dark brown natural hair color. Darker hair will have darker results; red hair, redder results; lighter, relaxed or permed hair, lighter results. On very light blonde, bleached or highlighted hair, results will be very intense. Colour result will be more vibrant on gray hair. Not recommended on predominantly gray hair. This Luxurious Feria Collection Includes: Shimmering Colour Permanent Haircolour Gel; Shimmering Colour Developing Creme in Applicator; Aromatic Aura; Colour Hydrator No Build-Up Deep Conditioner; Colourist gloves; Instruction Brochure.
Shimmering Colour Permanent Haircolor Gel: Water, Trideceth-2 Carboxamide MEA, Propylene Glycol, Hexylene Glycol, PEG-2 Oleamine, Polyglyceryl-4 Oleyl Ether, Oleyl Alcohol, Alcohol Denat., Ammonium Hydroxide, Polyglyceryl-2 Oleyl Ether, Oleic Acid, Sodium Diethylaminopropyl Cocoaspartamide, Pentasodium Penetate, Fragrance, 2-Methyl-5-Hydroxyethylaminophenol, Ammonium Acetate, 4-Amino-2-Hydroxytoluene, P-Phenylenediamine, Sodium Metabisulfite, P-Aminophenol, Erythorbic Acid, Phenyl Methyl Pyrazolone, Resorcinol, 6-Hydroxyindole, P-Methylaminophenol Sulfate. Shimmering Colour Developing Creme: Water, Hydrogen Peroxide, Cetearyl Alcohol, Trideceth-2, Carboxamide MEA, Ceteareth-30, Glycerin, Pentasodium Pentetate, Sodium Stannate, Tetrasodium Pyrophosphate. Aromatic Aura: Sunflower Seed Oil, Fragrance. Colour Hydrator No Build-Up Deep Conditioner: Water, Cetearyl Alcohol, Glycerin, Behentrimonium Chloride, Euphorbia Cerifera (Candelilla) Wax, Amodimethicone, Cetyl Esters, Isopropyl Alcohol, Fragrance, Methylparaben, Trideceth-12, Chlorhexidine Dihydrochloride, Cetrimonium Chloride.
Follow the instructions. Store between 50 and 80 degrees F.
Haircolor products can cause an allergic reaction which, in certain rare cases, can be serious. Therefore, before you use this product it is necessary to follow these precautions: Do not use if you have already had a reaction to a haircolor product; if you have a sensitive, itchy or damaged scalp. If you have a tattoo, the risks of allergic reaction may be increased. Perform an allergy test with a portion of this product 48 hours before full application (see instruction sheet). Avoid contact with eyes and skin (other than areas of application). If product gets into eyes, rinse with lukewarm water immediately. Wear gloves provided in kit. Thoroughly rinse hair after application. Do not use over anything other than coloring your hair. Do not use over compound henna or progressive color. Do not inhale or ingest. Keep product out of the reach of children. This product contains ingredients which may cause skin irritation on certain individuals and a preliminary test according to accompanying directions should first be made. This product must not be used for dyeing the eyelashes or eyebrows; to do so may cause blindness.