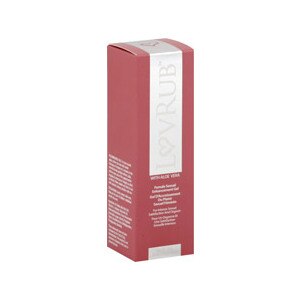 LovRub Female Sexual Enhancement Gel
With aloe vera. For intense sexual satisfaction and orgasm. LovRub is a unique natural herbal formulation designed to help you experience the best sex ever by maximizing your pleasure and making every sexual experience stronger. (These statements have not been evaluated by the Food and Drug Administration. This product is not intended to diagnose, treat, cure or prevent disease.) Made in the USA.
DI Water, Aloe Vera Gel, Glycerin, L-Arginine, Glycereth-26, Hydroxyethylcellolose, Trans-Resveratrol (Muscadine, Grape Extract), Propylene Glycol, Diazolidinyl Urea, Methylparaben, Propylparaben, Menthol.
For best results apply a dime size dab with tender massage as foreplay for 5 minutes to the external female genitalia (clitoris, labia, and the outer area of the vagina) before engaging in intercourse. Reapply as often as desired. Water soluble and safe for use with condoms. Always practice safe sex.
Avoid contact with eyes. Keep out of reach of children. Individual results may vary.