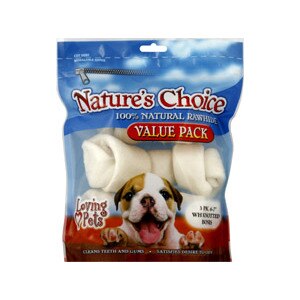 Loving Pets White Knotted Bones Value Pack
6-7 In. 100% Natural rawhide. Cleans teeth and gums. Satisfies desire to chew. Loving Pet's primary concern is your pet's health. That's why our Nature's Choice 100% natural rawhide contains no additives or preservatives. In fact, it's made from the finest quality hides available. Chewing rawhide provides benefits for both you and your pet: It helps maintain your pet's dental healthy by removing tartar and massaging your dog's gums. It helps improve the quality of your dog's breath. It helps prevent destructive chewing by satisfying your dog's natural desire to chew. Product of Brazil, Thailand or China.
Please supervise your pets when giving any treat.