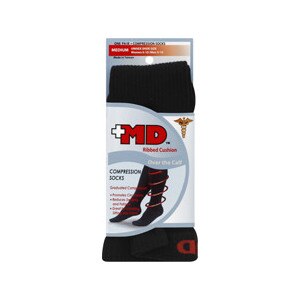 +MD Ribbed Cushion Over the Calf Compression Socks Black Medium
Women 6-10/men 5-10. Unisex shoe size. Graduated compression. Promotes circulation. Reduces swelling and fatigue. Great for standing, sitting and travel. Promotes leg circulation. +MD Graduated Compression Socks systematically apply graduated pressure to the lower legs increasing blood flow back towards the heart. Helps reduce swelling. +MD Compression Socks massage the legs and feet, helping to reduce edema (swelling). Reduces leg fatigue. +MD Compression Socks use engineered pressure zones for optimal support, reducing fatigue while standing, sitting and traveling. Relief for varicose and spider veins. +MD Compression Socks may aid in the prevention and relief of varicose and spider veins. Made in Taiwan.
70% Cotton, 23% Nylon, 6% Lycra, 1% Spandex.
Care Instructions: Machine wash in cold water with similar colors. Tumble dry on low. Do not bleach.