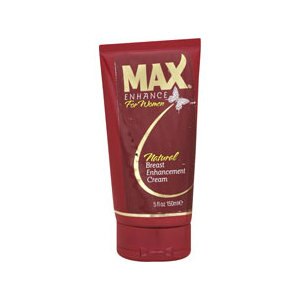 MD Science Max Enhance for Women Natural Breast Enhancement Cream
MAXEnhance® for Women Natural Breast Enhancement Cream

Firms and up lifts breasts giving woman sexier breasts
Rejuvenates and restores elasticity to skin
Results can be achieved in as little as three weeks
Best results achieved when the product is used twice daily for three months and then once daily thereafter
May be used with any other MDScience Lab product
Q.What does MAXEnhance® do and how does it work?
A. MAXEnhance® contains a unique ingredient called Pueraria Mirifi ca which is known for its rejuvenation effect and has been used throughout the orient for many years. Pueraria mirifica is a potent plant extract that encourages breast tissue development, by its high concentration of phytoestrogens including miroesterol, deoxymiroestrol and genistein. MAXEnhance® helps women enhance their breasts appearance by making them firmer, fuller and perkier. Current studies are being done around the world to value if phytoestrogens may also be cancer protective.
Q. How long does MAXEnhance® take to work?
A. MAXEnhance® takes approximately three weeks of use in order to see a noticeable difference, due to the nature of how the product works. A woman should treat MAXEnhance® like a lotion for her breast and use it twice a day for best results.
Q.Can I use MAXEnhance® if I have breast implants?
A. Yes. MAXEnhance® works to uplift and restore the elasticity of your skin. It's like having insurance for your investment in breast augmentation.
Q. Is MAXEnhance® safe to use if I have a medical condition?
A. MAXEnhance® is safe for most women, however we recommend that anyone with medical questions or concerns consult their doctor before using any of our products. It is not recommended for women who might have a cancer that is estrogen-positive because of its phytoestrogen content. Women who are pregnant or breast feeding should not use this product.
Water (Aqua), Pueraria Mirifica Root Extract, Prunus Amygdalus Dulcis (Sweet Almond) Oil, Glycerol Stearate, Glycerine, Caprylic/Capric Triglyceride, Cetyl Alcohol, Sodium Stearyl Lactylate, Dimethicone, Bees Wax (Cera Alba), Diazolidinyl Urea, Methylparaben, Propylparaben, Propylene Glycol, Helianthus Annuus (Sunflower Seed) Oil, Fragrance (Perfum), Tocopherol, Tetrasodium EDTA, Butyrospermum Parkii (Shea Butter), Retinyl Palmitate, Allantoin, Citric Acid.
For best results, massage a half teaspoon of cream into each breast until completely absorbed. use twice daily for a minimum of three months. To maintain desired results, use three to five times a week.
For external use only. Not for use by pregnant or lactating women. If you are taking a prescription medication, or have a medical condition, consult a physician before use. If a rash or skin irritation develops, discontinue use. Not intended for use by persons under the age of 18.