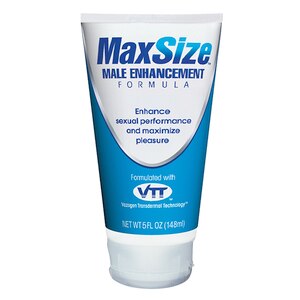 MD Science Max Size Male Enhancement Fomula
MAXsize® Male Enhancement Cream Formual

Brings blood to the surface of the penis
Stimulant-free
Immediate result: a firmer, longer lasting erection
Results for woman:MAXsize® Cream may be a good alternative for women seeking intense sensations of cooling, warming and tingling. Stronger than VivaCream® MAXcream® Cream can be felt everywhere there are sensitive tissues, such as the nipples, vagina and anus.
May be used with any other MDScience Lab products
Q. What is the MAXsize® Cream and how does it work?
A. It has a unique ingredient called Butea Superba. MAXsize® Cream brings blood to the surface of the penis. Immediately after appling MAXsize® Cream to the head and shaft of the penis, it starts to absorb through the skin. It's an erection cream that also feels really good with a tingling warming and cooling sensation. Both partners will enjoy the effects of this product.
Q. How long does it take to work?
A. It works instantly and will last for about an hour. There is no limit to how much you can use.
Q. Is MAXsize® Cream safe to use if I have a medical condition?
A. MAXsize® is a stimulant-free so it is safe for men to take who are sensitive to stimulants. We recommend those individuals with questions, concerns, or medical conditions should consult their physician before taking any of our products.
Butea Superba Botanical Extract Infused in Purified Water, Propylene Glycol, Dimethicone, Polysorbate-80, Glycerine, Carbomer, Aloe Vera Gel, Menthol, Peppermint Oil, Niacin, Diazolidinyl Urea/Iodopropynyl Butylcarbamate, Tromethamine.
Massage desired amount directly to the genital area. Sensation will begin immediately. Partners may also notice increase pleasure and sensation.
Keep out of reach of children. Avoid contact with the eyes or any irritated tissues. If contact occurs, rinse with water and consult a physician.