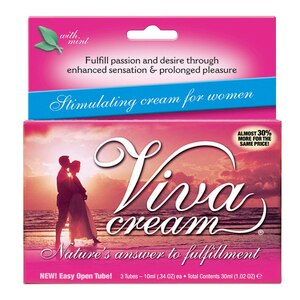 MD Science Viva Cream Stimulating Cream for Women
VivaCream® Arousal Gel for Women

Very exhilarating, the cooling warming and tingling sensations form a perfect arousal wave
Toy compatible and ingestible
Sugar-free and will not contribute to yeast infections
May be used with any other MDScience Lab product
Swiss Navy® 2-in-1 Just For Her Wild may be an alternative to VivaCream® for women seeking momre intesity
Q. What is VivaCream® and how does it work?
A. VivaCream® is an exhilarating clitoral stimulating gel. It starts out with a cooling sensation and ends in a warming tingling sensation. It contains L-Citrulline which starts to assist blood flow to the clitoris and niacin which assists with both the blood flow and the warming. VivaCream® creates a perfect arousal wave helping woman to reach a climactic orgasm.
Q. Is VivaCream® ingestible?
A. Yes, and it has a natural minty flavor. The formula is sugar-free and will not cause yeast infections. Some competitors products contain sugars and may contribute to yeast infections.
Q. How long does it take to work?
A. It works on contact and will last for up to an hour. There is no limit to how much you can use.
Q. Is VivaCream® safe to use if I have a medical condition?
A. We recommend that anyone with medical questions or concerns consult their doctor before taking any of our products. VivaCream® is not recommended for use if a woman is pregnant. VivaCream® is topical and the ingredients work only locally so it is safe for women to use who are normally sensitive to stimulants.
Propylene Glycol, Cetyl Hydroxyethylcellulose, Water (Aqua), Tromethamine, Menthol, Niacin, Mentha Piperita (Peppermint) Oil, Methylparaben, L-Citrulline.