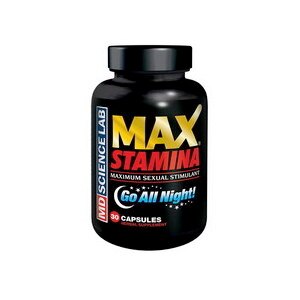 MD Science Lab Max Stamina Maximum Sexual Stimulant
Herbal Supplement. Maximum sexual stimulant. Go all night! Increase arousal and passion, boost libido, and maximize stamina. (This statement has not been evaluated by the FDA. This product is not intended to diagnose, treat or cure or prevent any disease.)
Proprietary Blend: Maca, Tongkat Ali (Longjack), Macuna Puriens, Polypodium Vulgare. Other Ingredients: Gelatin, Magnesium Stearate, Brown Rice Flour.
Take 1-2 capsules, 45 minutes before sexual activity. Individual response varies. We suggest using one capsule first.
Use as directed. If you are using any prescription drug, or have a medical condition, consult your physician before using this product. Keep out of reach of children. If you experience an erection lasting more than four (4) hours, contact your physician immediately.